I've been doing pretty well on the Paleo diet for the last week and it seems to be getting easier. At dinner last night we ordered pizza (which is my main trigger food) and I didn't touch it. I had a salad with grilled chicken.There's been a little bit of wheat sneaking in to some of the sauces and things I've been cooking with. but it's almost all out of the house now. Today I stocked up on Almond flour today for Baking and some other things that have become my new staples. I found
this great recipie for banana bread
which I made yesterday. It is REALLY good. I don't miss the flour at all. Next time I would use a bit less almond extract, but still good.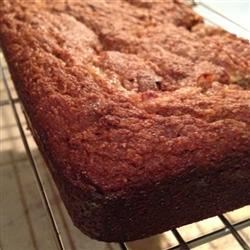 I'm making
Brazilian chicken curry
from one of my favorite blogs,
PaleOMG
in the crockpot for dinner tonight as
I LOVE TO CROCK
, not sure how it's going to be but it smells damn fantastic. Next week I plan to try this
recipe for sandwich bread
. I miss sandwiches. A lot.
Not sure if the new diet is helping with the eczema yet. It is better but it tends to ebb and flow... I'll need a little more time to know for sure. I had decided to allow myself dairy, I
love, love, love
cheese. But this morning I watched the documentary:
Perfect Human Diet
and now I'm thinking of cutting dairy out as well. There's really no need for it. I would recommend watching the documentary if you're new to this diet and want to understand the science behind it. There wasn't much mentioned I didn't already know from my own research, so if you've been eating this way for awhile it would just be a waste of time.
Diet aside, I've been getting more and more inspired to get out of the cube. Time for big changes. Getting lots of ideas from the other fabulous pole schools and business owners, looking forward to putting them all together. Human beings just weren't built to sit at a computer 8 hours a day. Soooo unhealthy. (If you are also stuck at a desk all day here is great video on desk stretches from the Amazing Samantha Star:
Heading to New York tomorrow for X-pole teacher training (
squeeeeeeeee
), this is a major step in my journey, I'm so excited. I don't know what will follow, but I can't wait to find out. In the words of the great philosopher Tom Petty, "The future is wide open."
Can't wait to post from training this weekend! If you are paleo eating please share your favorite recipes with me! I love trying new things. Have a safe and happy long weekend!!